Education Module Regulation Diagnose and Biomedical Systems Therapy
By setting up an intake systemically, you increase the effectiveness of the intervention
Become a Certified Biomedical System Therapist!
From September 2023, Biocoherence will be organizing the education module
"Regulation Diagnostics and Biomedical System Therapy"
in collaboration with OPFG in Vianen.
This education module is specifically intended for experienced therapists with at least a HBO physiological pre-education.
GET A TOTAL VIEW OF A PERSON'S HEALTH
Regulation Diagnostics and Biomedical System Therapy
Therapists with an existing practice learn to work with data obtained from the intake and additional tests to make a good system diagnosis. We work with a scientific system model in which we think in terms of patterns of disruption in the body and not of simple cause-effect relationships that many other orthomolecular therapy courses now work with. Coherence in underlying disturbances in regulatory systems forms the basis of this approach.
Charting the pattern of disruption at the regulatory level is central to the approach, which is why we refer to it as 'Regulation Diagnostics'. Subsequent treatment is then aimed at restoring, resetting, the pattern of disruption and not at simple cause-effect relationships
After making a proper system diagnosis, you are able to implement interventions, whereby you can use customized solutions in lifestyle, nutrition and sleep hygiene, orthomolecular products, pre- and probiotics, digestive enzymes, phytotherapy and homeopathy. The intervention can be supplemented (possibly in collaboration with other colleagues) with multiple interventions within the same system approach, such as coaching, stress management, psychotherapy and exercise advice.
The education module has been set up for therapists / health professionals who want to work systemically and integrally at a higher scientific level, and are provided with a system model for this. Physiological knowledge at HBO level is necessary for this. All meetings can also be followed as separate modules.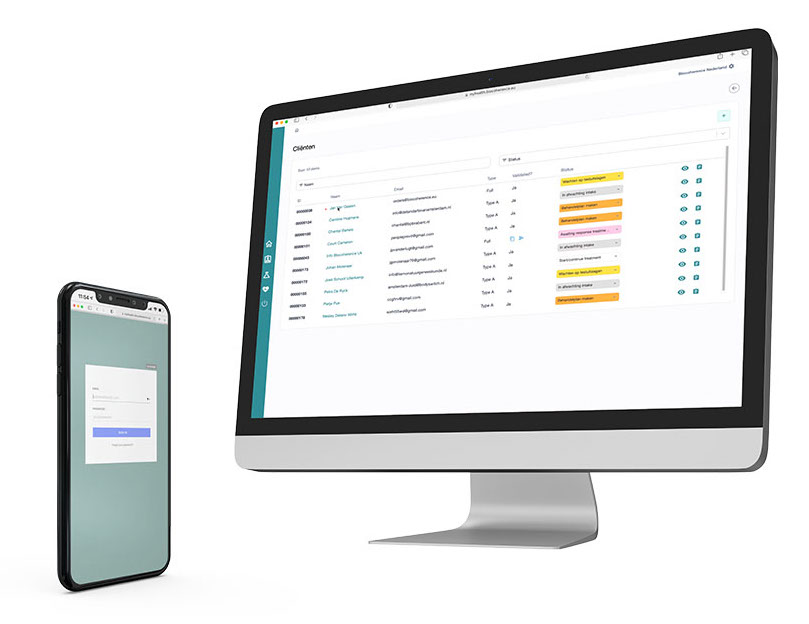 learn to think in patterns of disbalance and cohesion
1. Regulatie diagnostiek – denken in processen en samenhang, 5 regulatieprocessen, patronen van disregulatie
2. Process based thinking, Highly influential crosspoints
3. Metabolic syndrom
Diabetes mellitus, Insulin Resistance, Obesity, Cardiovascular Diseases, Disturbed blood lipids profile, Hypertension, Alzheimer's Disease.
4. Over-active – stress syndrom
Neurohormonal overactivity, Hyper-arousal, Constant feeling of being in stress mode, Hyper-alert, Steady flow of thoughts, Insomnia, Hyperactivity (ADHD), Hyperthyroid, Anorexia, Malnutrition, Panic attacks, Early stages of alcohol abuse, Early Life Stress
5. Under-active/Low energy/Inflammation/Allergy Syndrome
Fatigue, Inflammations, Seasonal depression, CFS, Fibromyalgia, Rheumatoid arthritis, Allergies, Asthma, Hypothyroidism, Auto-immunity, Burn-out
6. Epigenetic syndroom
Toxicological stress (environmental Toxins, Pharmaceutical substances), Early Life Stress stress (perinatal stress, birth stress), Metabolic Imprinting, Transgenerational Imprinting
7. Fertility Disfunction syndroom
8. Mental / emotional dysfunction syndroom
All symptoms and diseases related to cognitive and emotional functioning, Alzheimer's disease, Depression, OCD, Anxiety Disorders and Phobias, AD(H)D and ASS, Emotion Regulation problems
9. Sleep and recovery
DETAILS
Date welcome event: May 13, 2023, 13:00 hours
Location: OPFG, De Limiet 14a, VIanen, NL
Costs for welcome event: None
Accreditation: is requested from the MBOG, VBAG, NWP and CAT
Extra option: It is possible to follow the modules separately